A Stonehouse company has landed a £5million contract to fit renewable heating systems in three of Stroud District Council's largest public buildings.
Cotswold Energy Group was successful in bidding for the contract to replace ageing gas boilers with air source heat pumps at Stratford Park Leisure Centre, The Museum in the Park, and The Pulse leisure centre in Dursley.
The work will save an estimated 704 tonnes of carbon emissions every year and is a key aim in Stroud District Council's 2030 Strategy to do everything in its power to make Stroud district carbon neutral by 2030.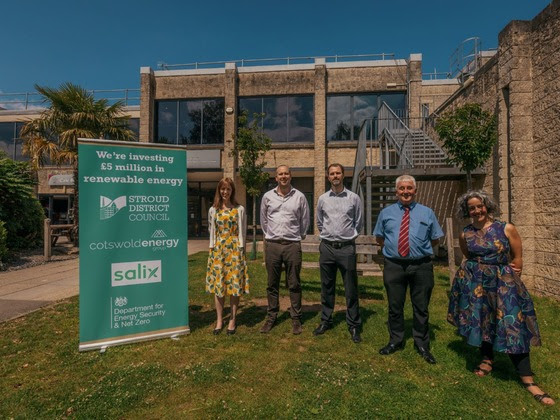 The cutting-edge technology will use recycled heat from the swimming pools and changing rooms at Stratford Park and The Pulse as heating.
Additional solar panels will be installed on all three buildings which will save thousands of pounds each year in running costs.
Cllr Beki Aldam, Chair of Stroud District Council Community Services & Licensing Committee said: "I am delighted to welcome Cotswold Energy Group to this ambitious project.
"This scheme achieves a number of objectives in our Council Plan and 2030 Strategy: to be a carbon neutral and ecologically sound district by 2030, and invest in our leisure provision to make it fit for the future."
Vice Chair Cllr Trevor Hall added:
"Our Council Plan priorities support for the local economy, so I am pleased that the winning bid was by a local company that employs local people and prioritises using local independent businesses in its supply chain."
Jon Bonnar, Managing Director of Cotswold Energy Group said:
"Cotswold Energy Group has a strong heritage of decarbonising the Stroud district and we're delighted to be awarded this landmark project.
"It means more green jobs created in Stroud whilst providing a much-needed transition away from fossil fuels to modern, renewable infrastructure in these important buildings."
It will be the second green energy project Cotswold Energy Group has worked on for SDC, having installed water source heat pumps at the council's headquarters at Ebley Mill, and Brimscombe Port Mill in 2022.
The work is due to start in July 2023 and finish in February next year.
Most of the work will have no impact on the day to day running of the buildings. Any unavoidable closures will be kept to a minimum, and quieter times aimed for.
Further information on closures will be posted on the following websites and on Stroud District Council's social media channels:
The work is funded by £4.7million grant from the government's Public Sector Decarbonisation Scheme, to which the council added £700,000 (12%) of its own funds as a condition of the funding.
The funding is initiated by the Department for Energy Security and Net Zero and is delivered by Salix Finance, the delivery body for the Government's Public Sector Decarbonisation Scheme (PSDS) and the Low Carbon Skills Fund (LCSF). The scheme provides grant funding to public sector organisations for heat decarbonisation and energy efficiency projects to reduce greenhouse gas emissions from public sector buildings.