Adam Horovitz's parents moved to a thumb offshoot of the Slad valley when he was three months old. He and his mother moved away when he was nine, but he came back aged 12 after his mother died. He has lived and worked in and around Stroud pretty much constantly ever since.
Despite having two poets for parents, Adam nonetheless chose to follow in their footsteps and become a writer. His father once, half-joking, begged him to become an accountant instead, as "we need the money!" This was never likely to happen, as Adam's maths teachers at Archway School could no doubt confirm.
He has published three collections of poetry, as well as A Thousand Laurie Lees, a memoir written to coincide with Laurie's centenary celebrations in 2014. Thanks to breaking both arms shortly after signing the contract, Adam's book ended up, slightly cheekily, being more his version of Cider with Rosie than the more journalistic book that had been originally pitched.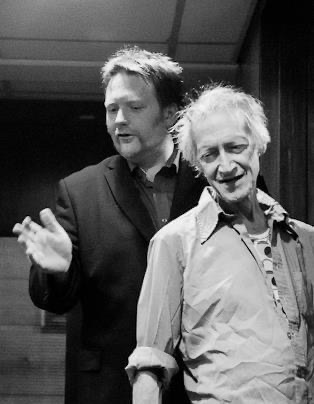 He enjoys collaborating with artists and musicians, and one of his poems about Stroud appeared on the 2021 Cerys Matthews and Hidden Orchestra album We Come from the Sun.
We put Adam under the spotlight
When are you at your happiest?
Usually when I least expect to be, which tends to amplify the joy, when it comes, rather nicely.
What has been the scariest moment in your life?
Discovering that the front brake of my motorbike had failed as I was going down the Old Neighbourhood. I leaned the bike as hard as I could into the turn and missed three cars in the other lane by millimetres. The adrenaline that kicked in at the bottom of the hill was quite overpowering.
What has been your biggest disappointment?
My disappointments have tended to be small, but cumulative. I suppose, then, that one could argue that my biggest disappointment is that I have had no really big disappointments. Which is, doubtless, a disappointing answer.
What is your guiltiest pleasure?
Coke Zero, since the sugary version is entirely out of bounds for me now. That and superhero movies – I like the feeling of being 10 and awe-struck again, if only for two hours in the cinema…
Who is the most famous person in your phone?
Now that would be telling…
What is your favourite smell?
Cheese on toast with cayenne pepper. Fresh lavender. Deciduous woodland in autumn. My girlfriend's hair.
Who would play you in a film about your life?
Someone thinner and prettier than me. That's how films work, right? Cate Blanchett, perhaps, or Timothee Chalamet.
What do you like most about living in the Stroud area?
Coming back on the train through the woods outside Chalford, having been away, and realising all over again how much I love these valleys, and many of the weird and wonderful people who live in them. I miss the 125 train windows that opened, mind – a good part of that pleasure was the smell of the woods.
What would you improve about Stroud?
Since solving the problem of ever-inflating house prices (which make it harder and harder for a broad mix of people to live here easily) is likely beyond my ability (though for goodness' sake, houses should be homes, not flippin' investments), a more trivial desire would be to have at least one shop in the town blessed with escalators again. I miss the old escalators in Merrywalks and Woolworths, and the teenage joy of being told off for trying to run up the down escalators.
What is your ideal weekend?
One that begins on a Thursday morning and finishes on a Monday night, yet involves no bank holidays whatsoever. There should be music, food, books, time to write, films, friends and other pleasantries involved too.
What is on your bucket list?
I ignore bucket lists. They irritate me. I prefer the big adventures in life to arrive at least a little unexpectedly, if not entirely out of the blue.
What is the most important lesson life has taught you?
To roll with the punches, to get more exercise, to work with people not against them and to avoid sitting on committees wherever possible.
What book and song would you take with you if stranded on an uninhabited island?
Song: Duke Ellington's 'Diminuendo and Crescendo in Blue', recorded live at Newport Jazz Festival. It's the most ecstatic 14 minutes of music I know, and I love hearing the festival crowd getting more and more excited by it. I feel like I am surrounded by people every time I hear it.
Book: Finnegan's Wake by James Joyce. I have never yet got past page 30 – it is a demanding and bamboozling book to try and read. If I am to go slowly mad in isolation on a deserted island anyway, why not go mad in style?