Stroud-based writer and illustrator Hannah Shaw has just brought out her latest book for children, the third in a series about Unipiggle, the Unicorn Pig. It's called Mermaid Mayhem and it stars Princess Peony Peachykins Primrose Pollyanna Posh, usually known as Princess Pea, and Unipiggle, a loud, muddy and proud unicorn pig who likes mud, marshmallows, chocolate, having fun and getting tickled behind the ears. Princess Pea, it must be said, shares his interests – except for getting tickled behind the ears. 
The latest Unipiggle book tells the tale of a madcap and delightful adventure at the seaside, in which Princess Pea and Unipiggle get into and out of all sorts of aquatic scrapes.
Hannah grew up in the Slad valley, before moving to Brighton to study illustration. She didn't specialise in books for children at college, but 'my love of making books and passion for narrative soon took hold and I haven't really looked back'.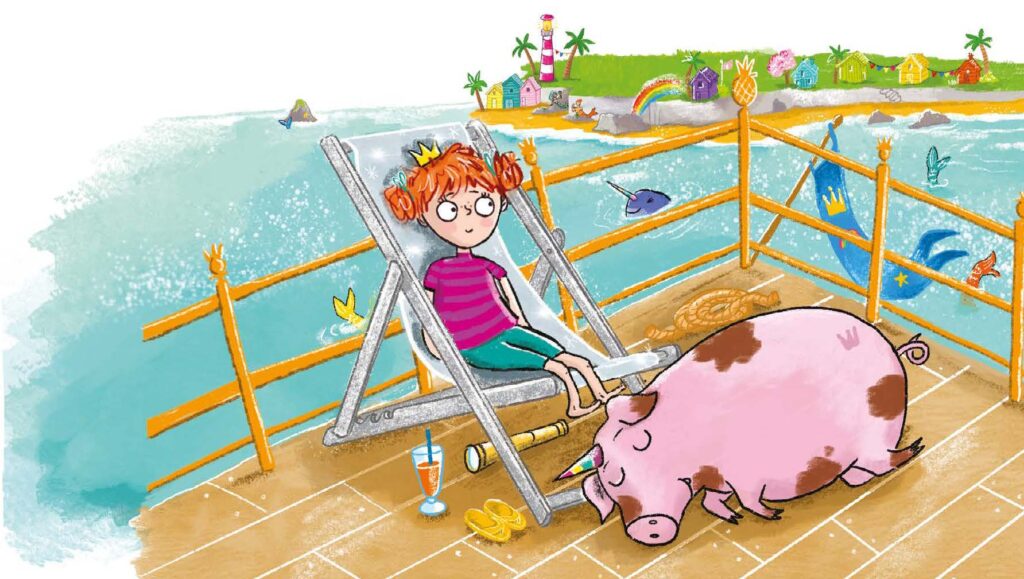 The Unipiggle series is her most recent, but her back catalogue includes enticing sounding picture books such as Evil Weasel, Erroll and School for Bandits as well as Stan Stinky vs the Sewer Pirates. She has also illustrated other people's books, including books by Kate Davies and Dick King-Smith.
Hannah returned to the five valleys to be near her family and raise her children and has spent lockdown working on this latest volume of the Unipiggle series, as well as engaging with the children she'd normally visit at their schools on Zoom.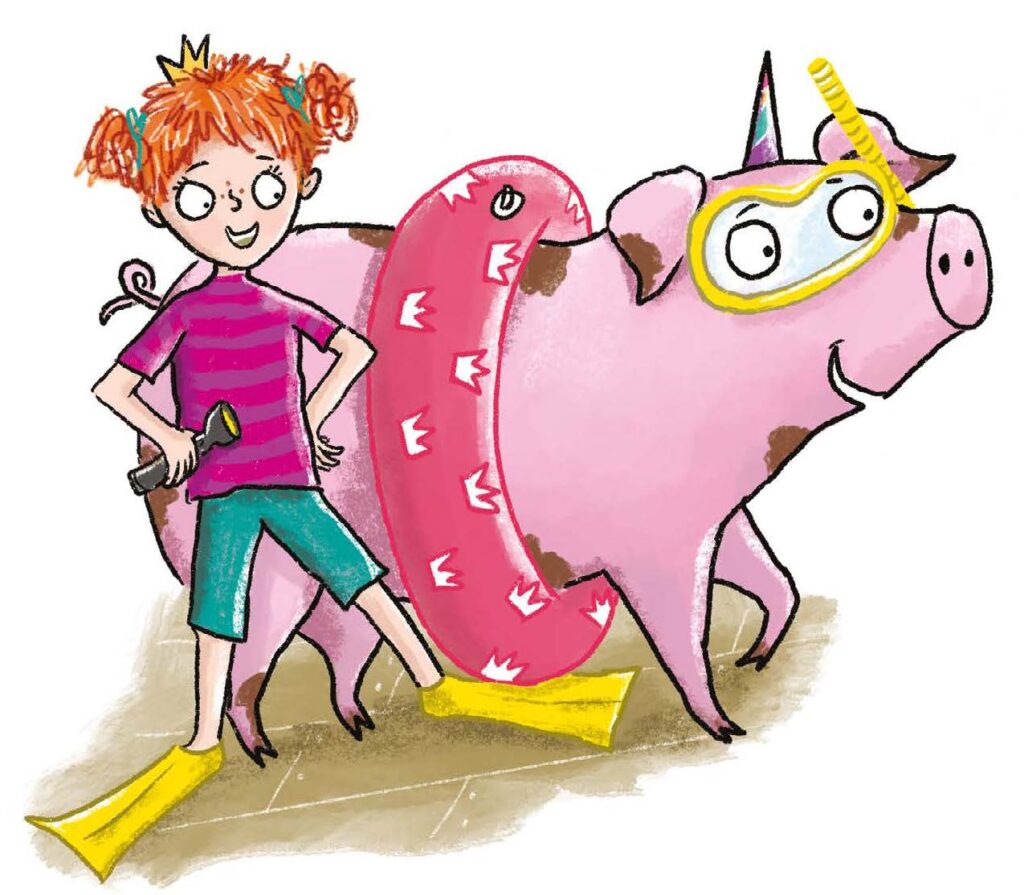 It's clear that the latest Unipiggle book came about in part as a reaction to the pandemic, not least because Hannah has dedicated it as follows: 'For teachers everywhere! A special magical "oink!" for all those who worked in schools during the global pandemic. Thank you for your dedication.'
The Stroud Times arts correspondent, Adam Horovitz, caught up with her on Zoom for a chat, and to find out more about the book, about what children need from books and life, and Hannah's year of working at home.
Adam Horovitz
I've just just finished reading Mermaid Mayhem, which is just lovely. It reminded me of the sort of books I enjoyed as a small child. It was joyous.
Hannah Shaw
Oh, thank you. It's silly, and I enjoy that about writing for kids really, that I don't have to be serious, and I've just got to think of the next wackiest thing to put in there. I think the the newest, it's actually probably the funniest. I get more confident about being funnier. You know, the first one is always a bit of a hard book to write because it's setting the scene for the series. And then each book becomes easier. Well, now I'm actually doing book five, which is ridiculous. It never ends!
AH 
It reminded me very much of the sort of adventures I had as a child with neighbours in the Slad valley. The things you make up and the leaps of logic, like escaping the sea spaghetti by eating it.
HS 
I also was brought up in Slad and just to be able to, back then, wander around, and just sort of get into mischief and problems which weren't really problems. But you know, I think you've made it a bigger problem than it would be by making it really exciting. 'We're getting chased – we're trapped!' 
.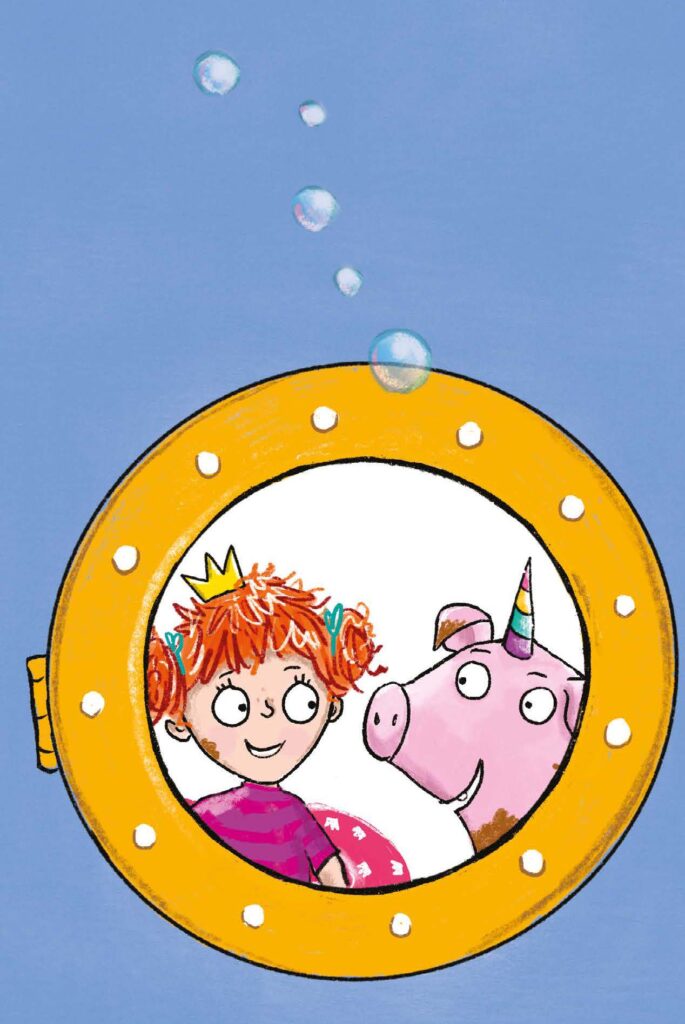 AH  
Or the idea of rescuing King Barry, the father, being fast asleep in the garden and you just make the adventure around him, "oh, we're taking him back, you don't have to wake him up!"
HS  
There's a fine balance, because I didn't want to do the whole cliché like bossy mom, lazy dad, but at the same time, King Barry is so ridiculous. It's hard not to poke fun at him and kind of make him make the butt of all the jokes. I always find that a bit of a fine balance with, you know, making things different. And fun, but also not like trying to deal with the stereotypes of everything.
AH  
So you're throwing elements of your childhood into these books?
HS  
Yeah, I think a lot of my influence comes from things I hear and see. And it's probably also memories and things. I tend to weave in like ridiculous things I hear into my books. You know, like stuff my kids say; my kids are 6 and 8 now, but you know, they're just always coming out with really silly things. I steal their ideas.
I enjoyed writing a seaside one just because it was during lockdown and we couldn't really go anywhere. So writing something that has a coastal, seaside holiday theme just really kind of took me out of my boring existence.
AH
That desperate need to escape?
HS
I think that's what I want for kids ;well, because, you know, this is not normal, is it? So, if they can't go on an adventure then at least they can go on a reading adventure.
AH  
Children seem to have internalised, much more effectively than some of their parents, the fact that they need to stay safe, the idea of 'don't come too near'.
HS
Actually what they need is a bit more freedom, they need some free play and learning free play, which I think the books sort of touch on that a little bit of how, you know, she's having all these structured lessons. But really, what she needs is kind of a bit of free play and fun, to learn,
AH  
It was very telling in the illustrations that, on the Royal yacht, the Princess Pea looked a little bored. A little peeved.
HS
In the other books in the series, Princess Pea gets all sorts of Princessing lessons that she has to conform [to], and do, and she spends her whole time escaping doing those. So that's the whole kind of theme that runs through those books; she had more fun when she's doing stuff herself and taking the initiative.
The series is really popular mainly with girls, but I didn't want it to be just girly; I've tried to put silly, funny humour in there, to make it fun for boys so they don't feel like boys can't read it because I didn't want that at all. I've done books about stinky sewer rats and things like that. So the six, seven year olds generally are like, 'yeah, we love this!'.
Not being perfect all the time, that's another thing. Look at social media; you know, a lot of The stuff children get exposed to really early on, it's all about being perfect and having an image, Unipiggle's like a really silly, fun, messy character, and he's not perfect. And that's kind of what makes him brilliant, really. And the Princess is the same, which is why they kind of perfect for each other. And then I think that the way the reason it works is because they're in this perfect world, and they're just rebelling against that perfect perfection.
AH 
Who are your illustration heroes? Who do you admire most?
HS 
David Roberts is one of my favourites. Have you seen his work? His work's gorgeous. He does the Rosie Revere Engineer books. He's done stuff with Julia Donaldson before, like the flying bath one and the troll. It's that kind of slightly weird pen and ink stuff, a bit like Edward Gorey, but then he's made it really fun for the kids. I really liked his stuff. Gosh, so many more. Obviously, Quentin Blake – and I think there's some brilliant new illustrators out there. Anything that's different from my stuff.
AH
How have the kids on the zoom meetings you do with school schools been coping? Are they able to engage with you?
HS  
They are. I think it's difficult for the younger children. So I think as soon as we get to like year one, and they can sit still a little bit more and focus. I don't think it's worked very well for reception age, but I think once sets of 6, 7, 8 they just understand the format because they've been doing it with the lessons. It's not the same. It's certainly not the same as going in and speaking to them individually, and, you know, having a laugh with them or bringing in props. So I try and use props on the zoom.
But obviously, you know, in school, I can get the kids to wear the crowns or moustaches, and I feel like I'm performing and … I think that's what they're missing out on, that kind of interactivity. They can do it to a certain extent, but you really need to be there in person to do it. I think they are coping. I think they've adapted, because they're brilliant.
I get lots of messages from kids who read the books really quickly. asking 'when's the next one coming out?' Or the mums, you know, saying 'my daughter loves this book. When's your next one? We can't wait!' Once the series is out there It'll be easier because I can say, yeah, I've got three books now, have you read the others? But I just can't write them fast enough!
Unipiggle the Unicorn Pig: Mermaid Mayhem was released by Usborne on June 10th and is available from Stroud Bookshop or Nailsworth's Yellow Lighted Bookshop. Hannah will be laying a Unipiggle trail around the Rococo Gardens in Painswick this summer. Watch this space for more information.