Gloucestershire Constabulary has welcomed three new crime-fighting canines to the Dog Unit and said goodbye to three retiring canines.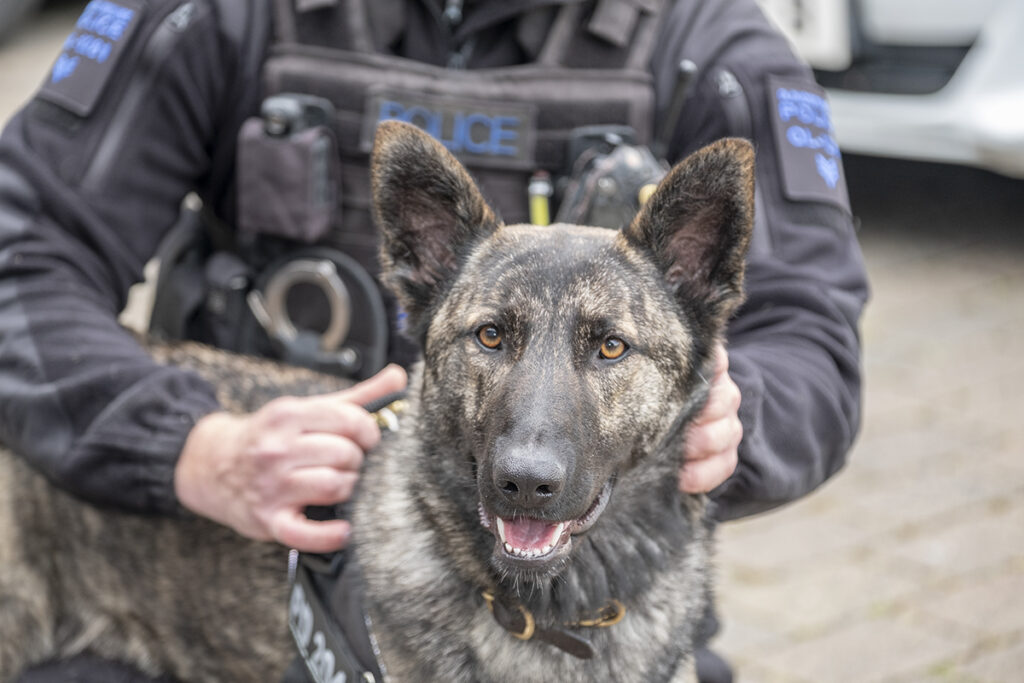 PD's Elmo, Frost and Maija joined the team on Tuesday following the award of their licences to operate as police dogs.
Elmo is a two-year-old German Shepherd and will be working alongside PC Ed Dawkins.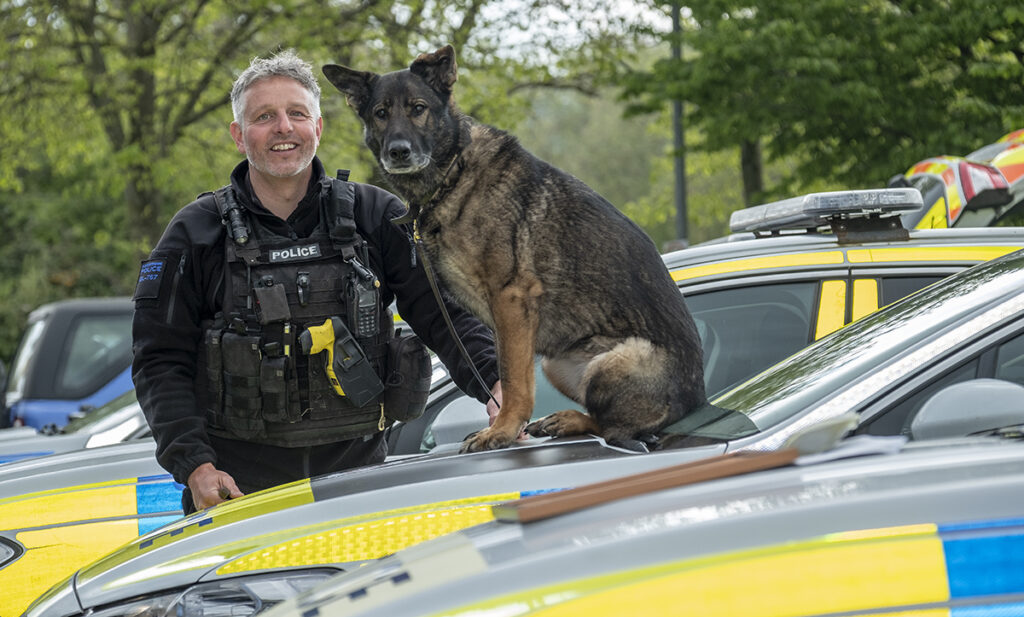 His first job was on Tuesday afternoon after PC Dawkins tasked him with searching a large building for a wanted man. After no sign of the man in any rooms, including the loft, Elmo indicated on a small locked cupboard and after challenging from outside the offender gave himself up.
Frost and Maija are 15 month-old brother and sister German Shepherds crossed with Dutch Herders who were sourced from specialist breeders in Walsall.
Frost is handled by PC Simon Ford and is a bundle of energy, full of excitement…a typical teenage boy! He is an exceptional tracking dog who loves to learn new things, he is particularly good at finding people.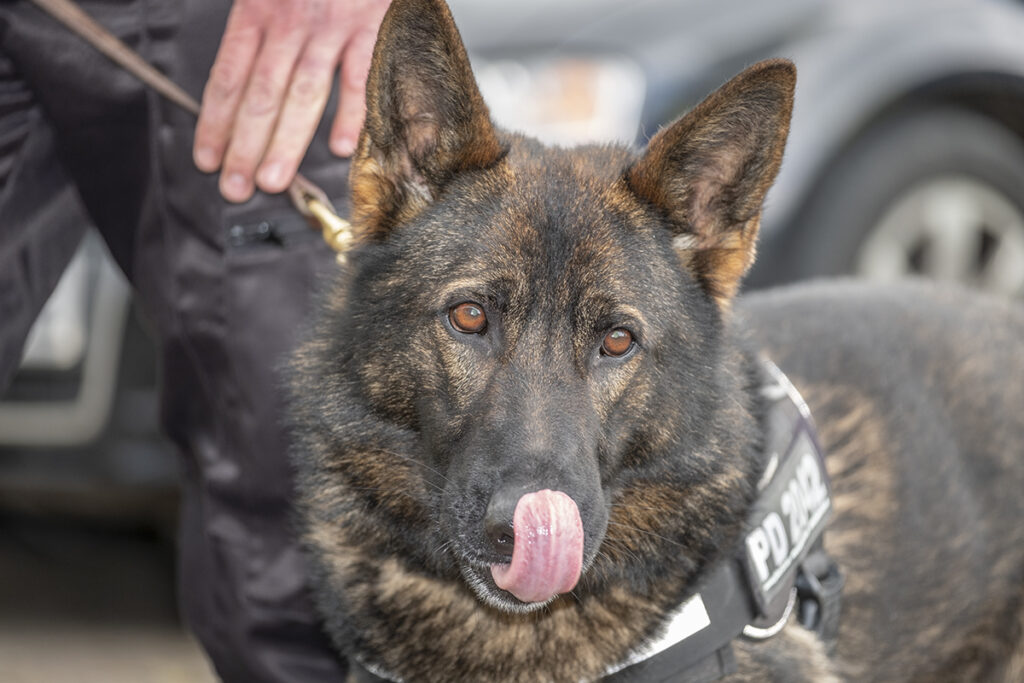 Maija is handled by PS Rob Towell and is a very intelligent dog and more grown up than her brother. Maija like her brother loves to track and search for people.
All three dogs are a welcome addition to the section and have a very bright future ahead of them in keeping the communities of Gloucestershire safe from harm.
Anyone who would like to follow Elmo, Frost and Maija's journeys can do so by following our Dogs Section Twitter account: https://twitter.com/GlosPolDogs
The dogs that retired earlier this week are PD Holly- a black and white Staffie cross Springer, PD Ella- a German Shepherd and PD Holly- a brown Springer Spaniel.
Holly joined the force after being adopted by her handler Rich Hunt in 2009.
Rich recalled how trainers doubted Holly when she first joined the Force saying: "We went on a drugs, cash and firearms proactive search course with the British Transport Police and I will never forget the instructor on day one looking at her and saying that she would never make a Police Dog.
"He based this all on looks as she was not the usual Springer or Cocker however she flew the course and was the best dog there.
"She was fully immersed in her role and looked back or had a day off sick and I am proud to have been able to be her handler for the past 12 years."
Holly worked as part of the policing operation for the London Olympics in 2012 and searched places such as the Mall in front of Buckingham Palace, Wembley Stadium and Wimbledon to ensure there were no safety risks.
She will also go down in history for being the first Police Dog in Gloucestershire to receive a collar number in 2019 as part of the launch of our compassionate approach to animals.
Ella joined the Constabulary in October 2013 and has been described by her handler Simon Ford as being the prettiest Police dog on the section.
She spent her working life avoiding the social media limelight as she is a humble, but proud public servant.
She was bred by West Midlands Police and went out to 6 puppy walkers, who all sent her back, before they gave up looking for anyone else who could put up with her 'strong character', finding her available at a time of need she went to live with PC Ford and licensed as a Police Dog with just 8 weeks training in October 2013.
Ella worked for the Constabulary for seven and a half years catching large numbers of criminals and finding many missing people before hanging up her harness and attaining the (proud handler given) status of 'The Grand Duchess of Gloucestershire'.
PC Ford said: "The one job that I will always remember is when Ella helped to search for an elderly man with dementia who had gone missing in Stow and was considered to be high risk due to his condition, failing light and rapidly dropping temperatures.
"After a drive around the area with the man's wife to identify his memorable locations, Ella was deployed in a position likely to invoke early happy memories.
"Despite the area having been searched by officers on foot and NPAS having flown repeatedly over, Ella immediately took me to a dense and overgrown copse between two major roads. Although disregarded as impenetrable, Ella ploughed on and dragged me through dense and painful brambles to find the missing man stood motionless deep in the undergrowth having completely shut down both physically and mentally.
"Of all the jobs we have attended this one sticks with me as being truly a life saved as I had no doubt that the male would have simply stood in the copse, unable to escape and unable to be located until he died.
"I love Ella, she is without doubt a hero with a hairy face."
Springer Spaniel Holly has been part of the Dog Unit since 2010 when her handler Debbie Shields took her on at the age of eight months.
Holly was donated to police at the age of eight months after her previous owners could no longer look after her for personal reasons and became a licensed Police Dog in June 2010.
PC Deb Shields said: "On Holly's penultimate shift we assisted Tewkesbury Neighbourhood officers with searching a premises for cash, Holly found money hidden all over the premises in CD cases and, hidden safes amounting to over £50,000. That was a very proud moment as I knew that may be her last search."
Holly has had so many memorable jobs and has assisted so many officers in arresting offenders, one job of note is when she assisted colleagues at Avon and Somerset Police with drugs warrants.
Holly and Deb were assigned to a premises where there was believed to be large amounts of cash hidden. We were assigned to searching a bedroom. She started to indicate at the back of a wardrobe and Deb found a pizza box, her first thought was that Holly had started indicating on peperoni however once the box was opened there was £25,000 inside.
These are only snapshots of Holly's great career and PC Shields is very happy to have worked with her and now looks forward to spending even more time enjoying walks and cuddles by the fire.
Pictures by Gavin Crilly, www.gavincrillyfilmandphotography.com/