Stroud Times has a new columnist: para-athlete Jonathan Brough, who lives in Minchinhampton. Here's a taste of why he'll prove an inspiration to disabled and able-bodied readers alike. His column begins next week, writes Katie Jarvis.
Jonathan Brough has just come back from a run on Minchinhampton Common: "I'm about to finish the virtual Everest Challenge," he explains. To complete it, he's had to climb the equivalent of the journey from Lukla Airport in Nepal to Everest's summit of 29,029 feet, using local roads and paths, recording his ascent via the app Strava.
An impressive feat for anyone. But even more so for Jonathan, who has been paralysed from the neck down – and permanently attached to a breathing machine – since a devastating bout of meningitis in 2007, when he was just 18.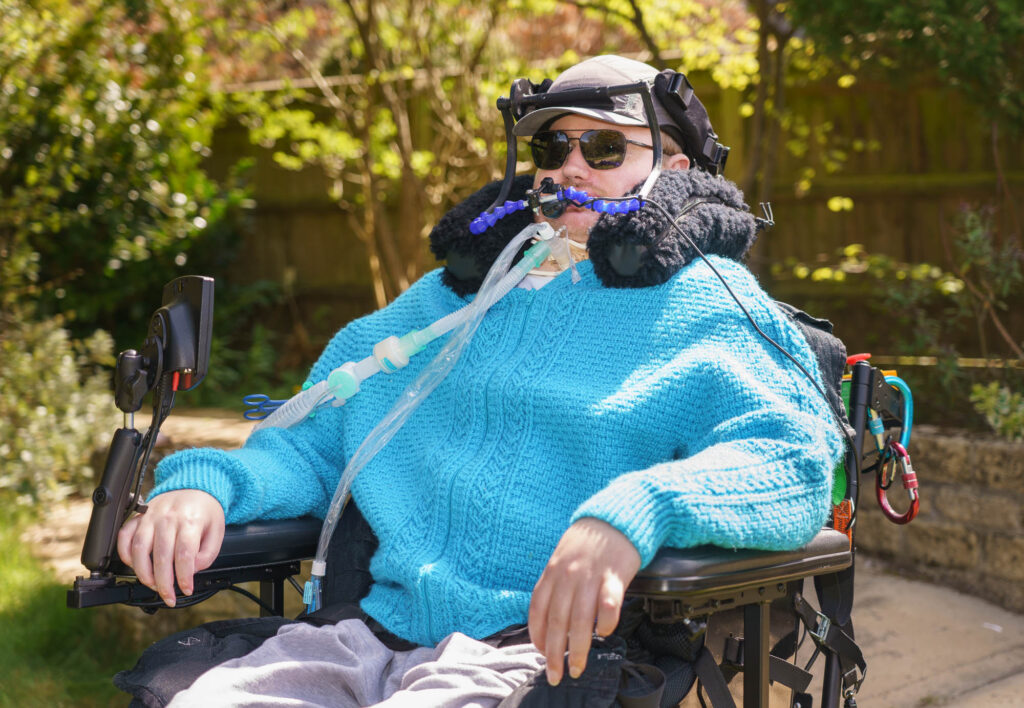 Before his illness, Jonathan was a keen athlete: cross-country running, football, climbing; skiing. He'd recently completed Stroud Half-Marathon when he left for a gap-year, learning how to become a ski instructor in Canada.
He was a couple of weeks into his stay when he developed a severe headache. The next thing he remembers is waking in hospital, unable to move or even speak.
"I'd always loved sport," he says. "It gave me a chance to be competitive. It was something we did together as a family. It gave me a buzz. Suddenly, I couldn't move."
In the early days, he spent time in Gloucestershire Royal Hospital, followed by months of rehabilitation in the specialist spinal unit at Salisbury.
"I'd lie there listening to other patients in wheelchairs talking about being able to go to the gym, play football, tennis or badminton. And I just couldn't. It was very depressing."
But anyone who knows Jonathan is well aware of one thing – he's not a quitter.
His gradual reintroduction to sport included being invited to play boccia, a disabled event similar to bowls. Using a specially-built ramp for the ball, he instructs a helper on exactly how he wants it set. Such has been his success, Jonathan now plays at national level and – before lockdown – was aiming for the Paralympics.
He also began fundraising 'runs' in a wheelchair he controls by mouth: "One of the first I did was Wings for Life World Run, raising money for spinal cord research. That was really good fun. Doing these things started to improve my mental health."
Lockdown should have been a real challenge; there have been times when he hasn't been able to see family for months. In fact, Jonathan has spent the time raising more than £1,500 for NHS charities.
"In many ways, I've never felt better," he says. "One of the big advantages has been that so many runs have been virtual over the last 12 months. Although I always enjoyed travelling to events in the past, it can cost more than £1,000 for me to take part each time – money I have to find myself.
"I need two carers with me all the time. Paying for travel, food, accommodation, etc, really adds up.
"My hope is that organisers will bear disabled people in mind and continue to offer virtual options for events in the future. To have the choice would open up lots more opportunities for people in my position."
To sponsor Jonathan in his next challenge, visit www.justgiving.com/fundraising/jonathan-brough6