Whether you're a car fanatic or not, it's typically the transport we use to get from A to B, and in less than 10 years from now, purchasing a brand-new car will look a little bit different, writes Nick Ponting.
That's because Boris and his Green Industrial Revolution (as he calls it), will ban the sale of petrol and diesel cars from 2030, in a bid to tackle climate change. As a result, car manufacturers are now in a race against time to ensure they're offering a diverse range of models to suit day to day life, so I thought it was about time to try Audi's latest attempt, the all-new Q4 e-tron.
An all-electric compact SUV built by a prestige German manufacturer sounds exciting. First impressions are positive. It looks good and enjoys all the attributes which you'd expect from a new Audi. That might sound stupid but so many newly released EVs are quite frankly bizarre in the way they look. Because there's no engine which would ordinarily require cooling, the new breed of cars don't need grilles which straight away changes their stance and aggressiveness.
Audi haven't held back with their design though. OK, the grille is artificial but I'd rather it there than not and it results in a classy finish with a very slight hint of geeky – which I like. For once, you can tell it's electric but for all the right reasons. Inside, it's surprisingly spacious and actually feels comparable with a full-size SUV.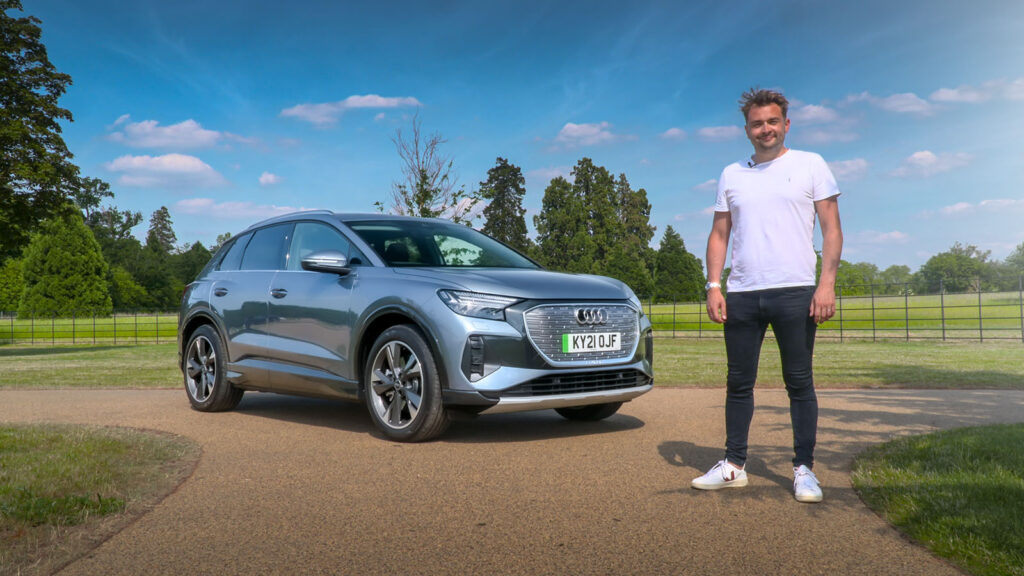 Starting from £40,750 and rising to £65,070, there are four different specifications to choose from, including Sport, S Line, Edition 1 and Vorsprung, along with three performance options ranging from 170ps to 299ps. For me, the Sport spec isn't very sporty unless you load it with extras, but by which time you might as well opt for one of the alternative versions which comes with a nice base spec as standard.
Out on the road, it's a nice place to be and does exactly what it's been designed for. It's not mind-blowingly fast but when you want the power it's there in an instant and it's delivered in a smooth yet punchy manner, a different experience to any of its internal combustion rivals.
Due to the positioning of the batteries the centre of gravity is fairly low, with weight distribution not far off 50:50 meaning the handling is pretty impressive for a car of this type. It weighs over two tonnes though so don't be fooled, it's no R8.
So, it looks good, it drives well and offers all of Audi's usual luxuries which leads us nicely to the big talking point and the reason why so many of us are still sceptical about owning an EV – charging and range.
How does it all work? How far will I get before I run out of charge? How do I charge it? Where do I charge it? How much does it cost to charge? All these questions which ultimately lead to not knowing if it's the right move, yet. We all know the change is coming and if you're reading this you may well be on the fence, trying to decide whether the next car should be battery powered or a last throw of the dice for a petrol/diesel car.
This review isn't about the pros and cons of owning an EV (there are plenty of guides and forums for that kind of stuff online) but the basics are simple. This version (40 e-tron) will give you a potential claimed range of 316 emission-free miles on a single charge. For those of you who know your EVs will know the claimed range isn't always quite as accurate as it's advertised, but I jumped into this car with a full charge and had just under 275 miles in the 'tank'. So, for the purpose of being realistic let's say the estimated figures are over-generous by around 15 per cent depending on conditions and driving style. But we also know the claimed mpg for an ICE car could be around 15 per cent optimistic depending on the exact same variables.
So, with the flexibility of charging at home or on the go (at rapid chargers) this gives you more options than a traditional car. Ask yourself, how frequently are you going to do a journey in excess of 250 miles in one go?
That's what this boils down to and If the answer to that is, less than occasionally, why wouldn't you be ready to make the switch? Even if you're off on a road trip, get organised and plan to charge at one of the 35,000 charge points in the UK. Interestingly there are now more public charge points than petrol stations and at the rate of the growing infrastructure I can't see it being long before there's more plugs than pumps.
I've found EVs and the whole change fascinating. Ultimately, I grew up around motorsport as a kid, racing cars and loud engine noise so the thought that in nine years' time you won't be able to buy a new ICE car is quite sobering. As a motoring nut, what's better than a roar of a V8 and the smell of the thing but they'll live on as classics, so we'll have the best of both.
Infrastructure is still not quite where it needs to be, but you need to weigh up whether you're ready. The quicker you can get yourself ready, the better.
Nine years ago, when we broke the EV land speed record with Ecotricity, there was such a limited choice if you wanted to travel green, hence the reason Dale (Vince) developing the Nemesis. I also remember saying, as soon as there's a mainstream manufacturer offering a car which can do 250+ miles on a single charge, there's no going back. I didn't quite expect it to happen quite as quickly as this. Nearly all manufacturers have something which will go the distance and deliver the power – an extraordinary change in such a short space of time.
So, what we've got with the 40 e-tron is a spacious family car which is a pleasure to drive, allowing you to get from Cornwall to Manchester on a single charge of electricity, a car built to the same quality as the rest of Audi's range and burning no fossil fuels. When you're ready to make that change, you won't look back.