It's going to be hot, hot, hot this weekend, so stoke up the BBQ and throw this bad boy on it! 100% vegan but it still has that smoky flavour and won't crumble on the BBQ. Why not make a batch and freeze them so you've got them whenever you want?
Preparation time: 10 minutes, resting time: 1 hour, cook time:25 minutes.
Ingredients: 200g raw beetroot, 100g cooked lentils, 60g soy sauce, 45ml water Use water from the lentils if you've used canned lentils, 15g peanut butter, 1½tsp ginger powder, 1½tsp smoked paprika, 1½tsp onion powder, 1½tsp garlic powder, 1 tsp liquid smoke, ½tsp black pepper & 180g vital wheat gluten.
Instructions
First, peel and chop into chunks your raw beetroot and put it into your food processor.
Next, add in the cooked lentils, soy sauce and water – or if you've used canned lentils, then use the water from the can.
Now add in your peanut butter, ginger powder, smoked paprika, onion powder, garlic powder, liquid smoke and black pepper.
Pulse the mixture until it's perfectly mixed, you may need to scrape the sides of the food processor bowl to make sure everything combines.
Now it's time to add in your vital wheat gluten and pulse the mixture, you'll notice that the vital wheat gluten gives a dough-like consistency.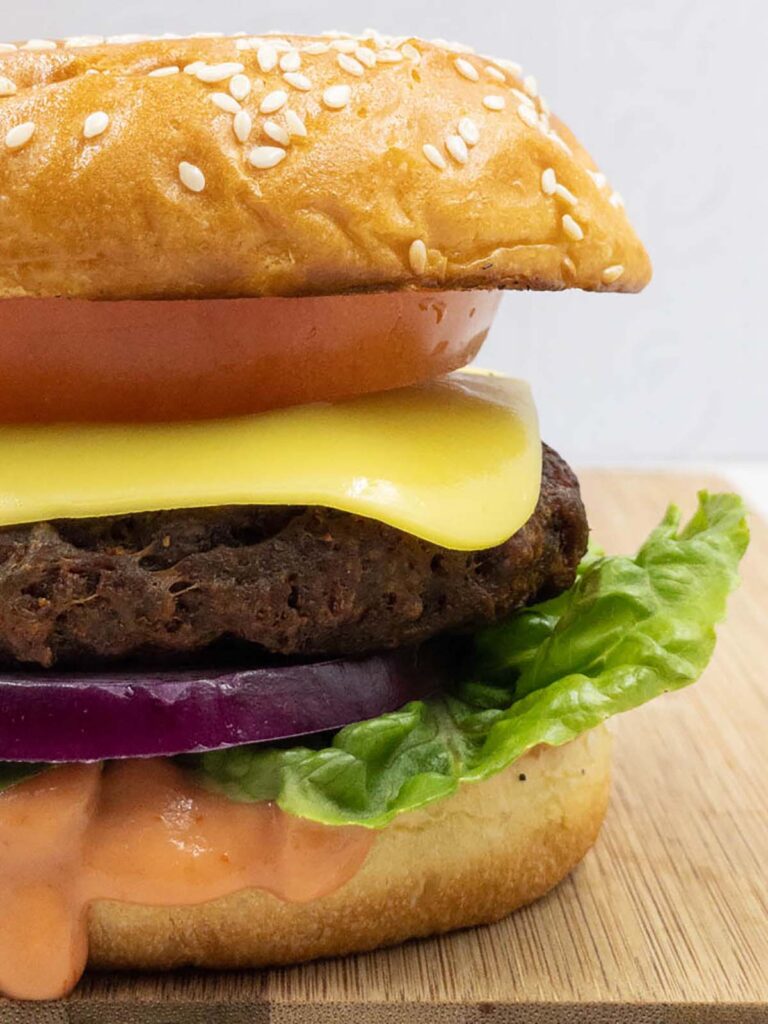 Next, it's time to shape your vegan burger patties. Using your hands, divide your mixture into 6 and then roll each portion in a small ball, then you need to flatten the ball into a burger patty shape.
Then you'll need to steam your patties for 25 minutes, take a pot that has a steamer basket and a lid and add approximately 10cms of water.
Bring the water to the boil and then add the patties to the basket, it's important that you only have a single layer of burger patties in the basket or they'll become odd-looking. This may mean cooking in batches.
Once you've steamed your burger patties and they have completely cooled, cover them and leave them in the fridge for a minimum of an hour. The longer you can leave them, the better they will become, ideally leave them overnight.
When they've been chilled then your burgers are ready to cook, you can fry them in a pan, grill them or throw them on the BBQ, each side will need a couple of minutes until they are heated through and have browned.
Our seitan burger is great served in a burger bun with lettuce, tomato, red onion and our burger sauce.
Vegan burger perfection! Enjoy your new favourite burger!
Calories: 173kcal | Carbohydrates: 13g | Protein: 27g | Fat: 2g | Saturated Fat: 1g | Polyunsaturated Fat: 1g | Monounsaturated Fat: 1g | Sodium: 609mg | Potassium: 272mg | Fiber: 3g | Sugar: 3g | Vitamin A: 263IU | Vitamin C: 2mg | Calcium: 59mg | Iron: 3mg

Discover more about this tasty burger https://www.splashoftaste.com/best-seitan-burger-ever/