On these hot spring days, I usually start at the farm around 7am. Snatching a few of those cooler hours before the heat kicks in is important when you face a day out in the field and I try to structure my work around avoiding too much heat. I love these quiet, calm hours, time on my own at my plot before the farm livens up around 9am.
The week follows a general pattern. Sowing seeds, weeding, preparing beds for planting seedlings, then transplanting seedlings into said beds. Along with the usual bouts of last-minute problem solving: a new pest has arrived, a plant is showing signs of nutrient imbalance (or is it a disease?) the weather is too cold, too hot, too dry, too wet…. The endless variables that make chemical-free farming so endlessly fascinating and stimulating.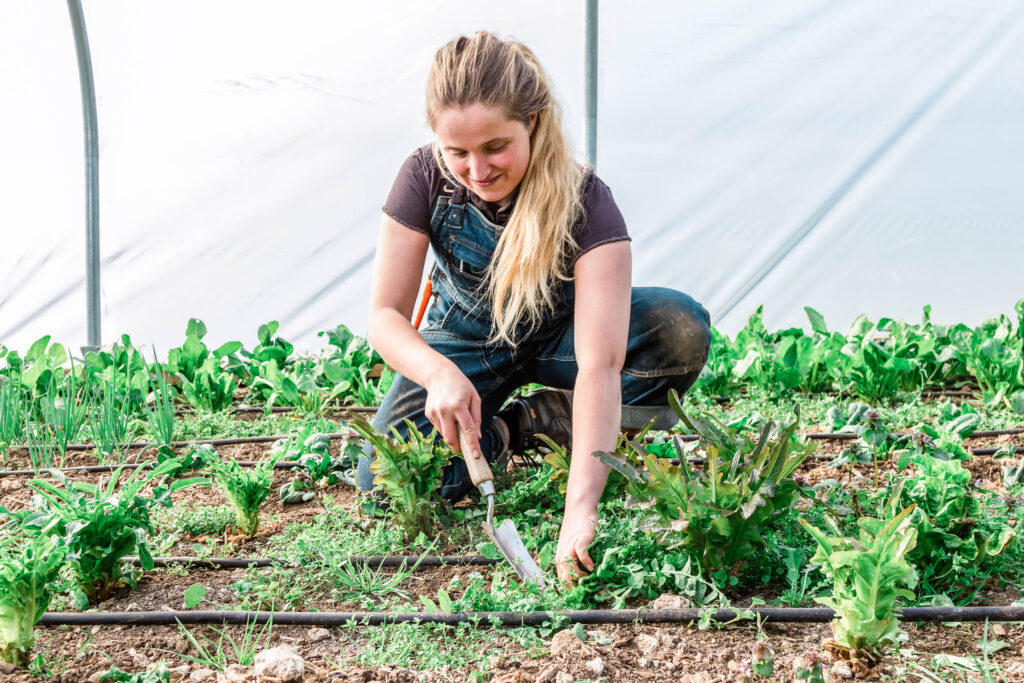 I run a small market garden at Oakbrook Community Farm, called Nell's Patch. Oakbrook Farm is a collective of small independent businesses, all farming regeneratively, with a focus on soil health, increasing biodiversity and creating local jobs in the organic/biodynamic farming sector. It was established with the aim of providing affordable land to innovative local farmers and social enterprises. The rent is affordable and the farm petitions for grants and offers shares to raise the funds to build necessary infrastructure on our behalf.
At Nell's Patch, I grow herbs, leafy greens and a very special salad mix, complete with edible flowers, for delivery to local restaurants and market traders in Stroud, as well as stocking an online shop for members of the public at www.stroudco.org.uk.
My plot is leased to me by Stroud Community Agriculture (SCA), a 40-acre membership farm, who rent an acre at Oakbrook Farm. I have my land for two years in which I have free reign to develop my business, whilst SCA provide infrastructural support (two polytunnels and tools) and part-time work.
I'm what you would call a 'new entrant farmer': someone who doesn't have a family history of farming and is relatively new to the growing game. I came to growing through volunteering on organic farms throughout my early twenties, which is apparently quite a common route for new entrants. I then started working in the sector, before moving to Stroud to set up my own project.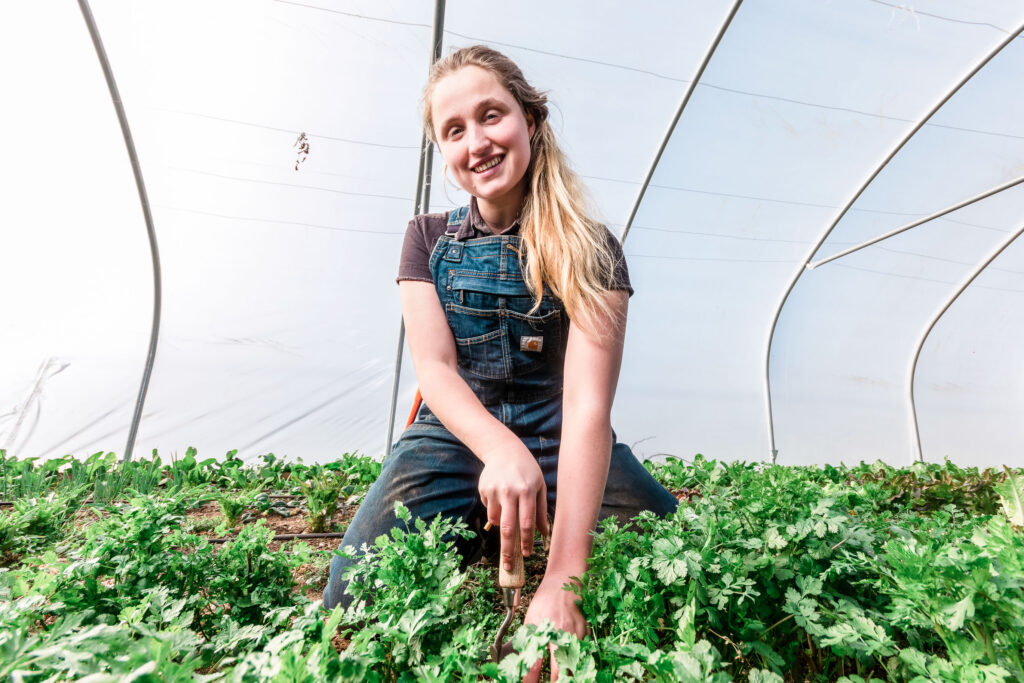 The support of larger farms to new entrants is an absolute lifeline. It is incredibly hard to access affordable land; particularly somewhere that is close enough to a town with a viable market and that has the vital infrastructure, such as water, electricity and storage space. The costs of installing these essential items along with insecure rental agreements can be a real barrier for encouraging new farmers.
SCA and Oakbrook Farm together have provided a space for me to develop as a grower. This past year I have learned a huge amount, both about growing and how to start a business. After I finish this season, I will be able to reflect upon whether I believe I'm ready and/or willing to start my own project, something that a lot of other young growers rarely get.
It has not been an easy ride. Starting a business at the beginning of the pandemic, particularly as one that relied upon restaurant trade, was extremely difficult.
I started as part of a duo, 'Rosie and Nell's Veg'. We grew a large variety of vegetables to try to appeal to members of the public after the closure of all pubs and restaurants. It was a chaotic year, with changes in policy came changes in behavior that became increasingly impossible to predict. We saw our sales spike then fall then spike again in seemingly random patterns. Ultimately my business partner decided to leave our farm after what was a very difficult year.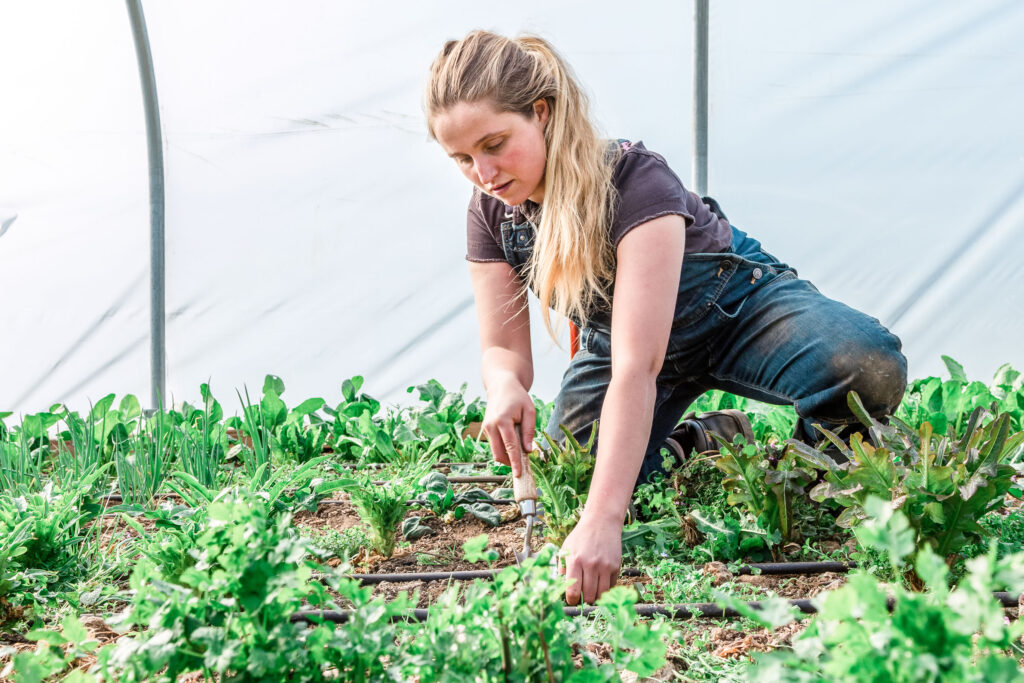 Growing is tough work, and is still not financially rewarding, despite the growing appetite for local food and a greater appreciation of keeping supply chains small. During that first lockdown, when the risk of food shortages actually seemed likely, I think we all felt more than ever how important it is to be locally resilient to disruptions in the global food chain.
Supporting local farms is the best way to do this. Take a moment to see what food producers are around you in Stroud, come and walk through my farm and have a chat about what we do here. There are so many great opportunities for Stroudies to get connected to their local farmers and food producers, and in turn to support many vital jobs in sustainable agriculture.
If you like creamy, unpasteurised milk then head over to our farm to check out Stroud Micro Dairy, a membership dairy which offers a milk share to be collected weekly from the farm. They have optional extras such as yogurt, kefir, ice cream, cheddar and (from next week!) halloumi cheese.
Even though those food shortages never happened, the idea that it might has sparked an interest in local sustainability, in people getting to know their farmers and looking around them to see what is available in their area.
This is something that I hope will continue after the pandemic dies down. As we move into an ever industrialised and uncertain future, it is more important than ever to preserve our local supply chains, and support local farms.
Nell Benney
Nell's Patch
@nells_patch
Oakbrook farm
www.facebook.com/oakbrookcommunityfarm
@oakbrook.community.farm