We spoke to former Stroud MP David Drew about the Stroudwater station back in 2021. You can view the video above
A decision on an £18m bid to revive a railway station that has been shut for nearly 60 years will be made by the end of the year, the government says.
Campaigners have waited for a year after lodging a Strategic Outline Business Case to the Department for Transport (DfT) in September 2022.
If it is successful, the Stroudwater station in Stonehouse would be financed from the "Restoring Your Railway" fund.
The bid is backed by Stroud's Tory MP Siobhan Baillie and the Green-led District council.
Labour's parliamentary candidate Simon Opher has also endorsed the plan, which would provide a second direct link to Bristol from Stroud District.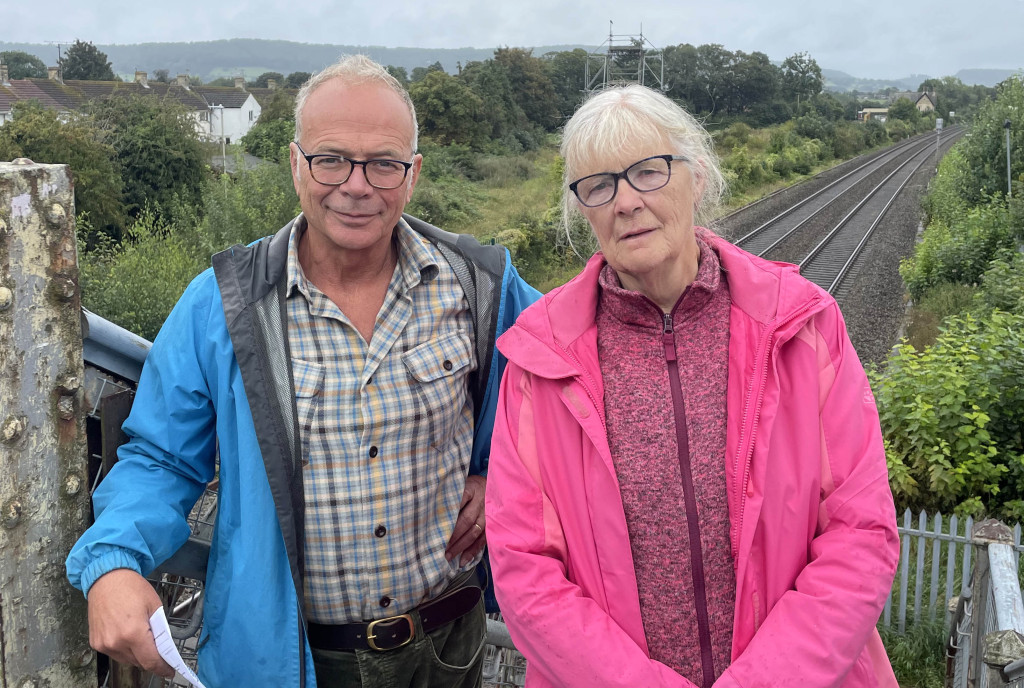 Dr Simon Opher, speaking on BBC Radio Gloucestershire, urged a coming together of all those involved to agree on a site and work together.
He said: "Stroudwater, on the A419 Bristol Road, and close to the thousands of new houses at Great Oldbury as well as adjacent to the proposed new ecopark, looks an ideal site and already has a favourable strategic outline business case.
"Gloucester County Council favour a site further north, already linked to the London Gloucester line. The dispute between these two sites needs resolving quickly, so that our whole community can campaign together."
"Stroudwater, which was previously a station on this line and still has the station master house, has been talked about for thirty years. The strategic outline business case was submitted but was turned down by the Department of Transport "Restoring Your Railways Fund." It has also not been invited to proceed to the next stage. Under the present government this scheme is therefore now dormant. Nothing seems to be happening. The amount of investment needed is not small, but if we are to get cars off the road and make our local environment cleaner and better connected for local people, we need a proper integrated transport system."
At present, many people in Stroud drive to Cam and Dursley station if they wish to take the train to Bristol. Or they just drive all the way. This isn't a sustainable solution. Charfield, further south, is getting its own station.
"A station, linked by well-maintained cycle routes from urban centres, would transform Stroud. Changing people's behaviours is about giving them choices, not by punishing them for driving."
"It's time we had our own Stroud station on this route," Dr Opher said. "I'm not under any illusions about this, but I'm willing to really push to make this happen. The amount of engineering to ensure fast trains aren't held back by more local stations on the line is considerable. But I'm convinced If we work together we can finally reopen Stroudwater Station."
Stroud MP Siobhan Baillie added: "Reopening this Stonehouse Bristol Road station remains a top priority and I know local people feel the same. There has been a 20-year campaign to make it happen and as far as I know, I am the first MP in that time to get government backing with financial support attached to properly investigate reopening the station. I would like to thank Stonehouse Town Council and local people for their hard work on this.
"The key to reopening the station will be convincing government about the business case and the rail bosses that it's a viable plan at a time where rail use is changing – particularly with more people working from home. I continue to make the case to the rail minister and others for this to happen.
"Right now, I am chasing the Department for Transport for an update on our Strategic Outline Business Case. There are hurdles to jump and it will take time but I am committed to finding a way forward.
"The Restoring Your Railway Fund is very popular and hugely oversubscribed. It is right that it is a very competitive process given the amount of taxpayer funds it takes to reopen rail stations. However, we have the drive and the ambition locally and I know the town council has a very good team who stand ready to work with myself and the government on this."
Trains currently run through Stonehouse station on the Gloucester to Swindon line, although there is another line in the town that goes to Bristol.
Stonehouse Bristol Road closed to passengers in 1965 as part of the Beeching cuts to the railways.