A big cat expert insists a gruesome dead animal find near Nailsworth isn't related to an attack.
Earlier this month, dog walker Lucy Conboy stumbled across a number of rotting dead animals at the entrance to Upper Balls Green Quarry near Nailsworth.
Lucy said: "I'm not certain how these animals have died, but they have been gutted and skinned, and it looks like someone has tried to burn the bodies. This was horrific and a vile inhumane kill and the bodies were illegally dumped."
Rick Minter, host of Big Cat Conversations podcast believes the remains appear to be dumped carcasses, he said: "This situation is unlikely to be connected with big cat activity, but much more likely human-related. It could be remains dumped after poaching – that would assume there is ready access to that spot by vehicle, as poachers are not going to carry those carcasses in. It does not seem to be typical poaching remains, however, but it all points to some kind of human action.
"These seem to be sheep carcasses from what we can tell of the photos. The big cats reported here appear to mainly target deer as large prey items, just as they do in their native countries.
"Big cats can create a 'graveyard' of skeletal remains which, after their kills, are taken to a favoured place in part of their wider territory. In such a situation the remains are usually stashed under cover or in a small derelict structure, and would not be blatantly out in the open like these. Also, with a cat's deposited carcasses the remains are at different stages of decay, and some of the bones might show tooth marks (called tooth pits) which come from the carnassial of the animal processing the carcass.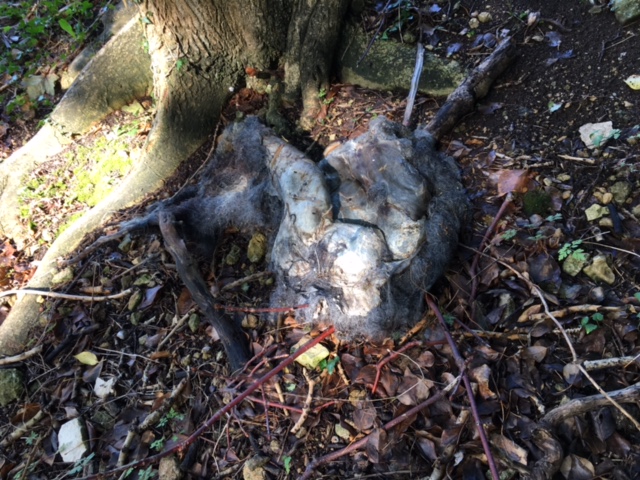 "The Royal Agricultural University has an ongoing study assessing tooth pits found on bone remains, and gauging which samples match the scale and pattern of a carnassial tooth from a big cat like a puma or leopard, given that pumas and black leopards are the main candidates for large cats described in the British witness reports."
A spokesperson for Gloucestershire Police said: "Police were contacted after it was reported that an animal carcass had been found at the entrance to Upper Balls Green Quarry near Nailsworth on Friday, August 13th.
"An officer attended and identified the remains as those of two or three sheep. Enquiries into the incident are ongoing at this time."
A further investigation on Sunday saw big cat experts discover another sheepskin with no bones a few yards from the quarry entrance. They noted there were no sheep in the field above the mine, with long uncut grass, so a long way for a cat to drag a sheep from anywhere near.
For more on Rick's Big Cat Conversations click HERE