There are fears that a shortage of rented properties in Stroud could trigger a potential housing crisis for renters.
Stroud Times was contacted by a number of private renters who claim landlords are cashing in on Stroud being named the best place to live in the country and selling up – pushing many to the brink of becoming homeless.
"I've rented the same place for five years in Stroud and have been served an eviction order due to my landlady is selling up," said builder Steve Sims. "I've looked online and found just one place to rent in Stroud and it was snapped up within two days of going on the market – the situation is proving impossible with prices for rental shooting up and property owners deciding to sell houses for ridiculous amounts after Stroud was voted the best place to live in the country – I could potentially end up homeless."
Emma Calcutt and her teenage son now face an uncertain future after being told to move out of their rental property in Stroud by November.
Emma said: "My 14-year-old son and I are about to be homeless in November and we 100 percent cannot afford private rent, so we are just waiting to be housed by the council. I was just getting my business off the ground too, so had to put that on hold until we're out the other side.
"It's a big deal and is actually getting worse with loads of people in the same situation – also looking for places to live."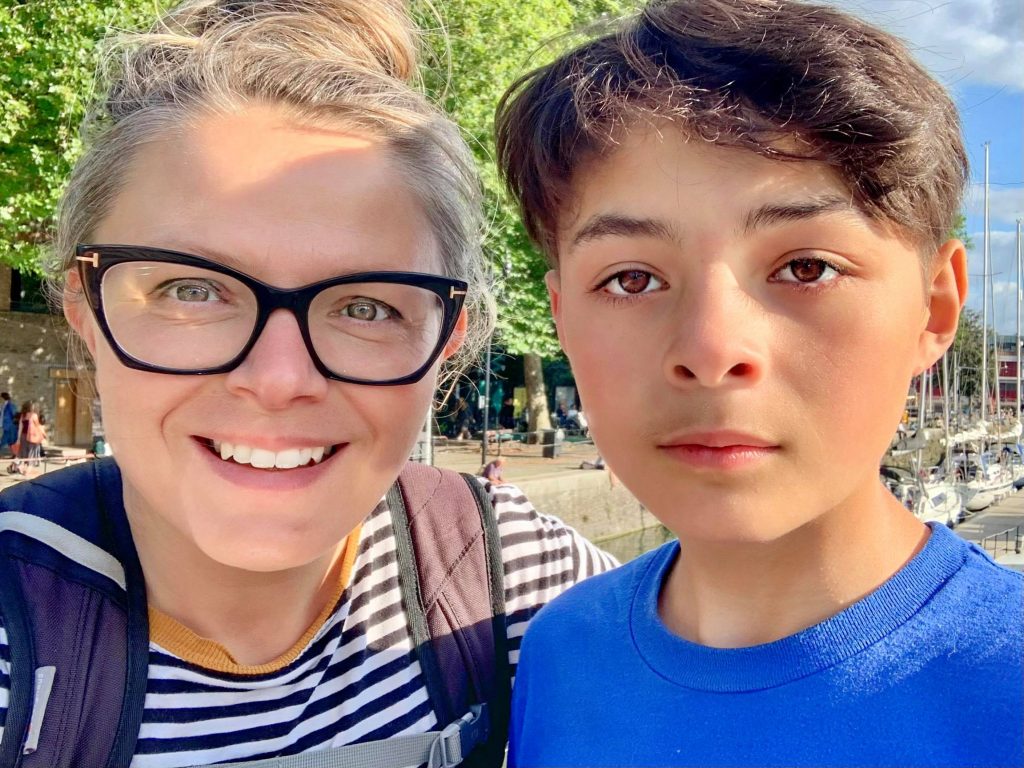 Marisa Tommasini feels the situation has now got out of hand, she said: "I am a renter. There has been a problem for a number of years, but because of Covid, the stamp duty holiday, plus the house price hike with people jumping on the house money 'flipping machine', things have gotten out of hand.
"As a single parent with dependants and the main income coming from maintenance, renting can be an absolute nightmare – I had to offer up my savings as a surety. I know of a single mother that had to pay six months in advance to secure a home for her and her children."
Nurse Leone Coysh insists rentals are scarce: "Quite simply – there are no houses available to rent in Stroud and when they are it's extortionate prices. I feel like I'm just waiting for my rent to be increased, at which point I won't be able to afford it, and who knows, I could end up homeless as an NHS nurse."
Natalie Long feels the current situation is 'awful' for renters.
She said: "I'm facing my fourth move this year. It's an awful time for renters. There's very little coming up for rent and whatever does is gone very quickly, before you can even get a viewing, or it's overpriced. I'm single and my wage doesn't cover the rent and bills and everything else on top, landlords also want huge deposits, and then there's the threat of being booted out constantly.
"I've only been in my current place since February and already the landlady has served notice to move out so she can sell. I'd just started to feel settled here after a very turbulent few years. It's a horrible situation to be in. Not knowing where you're going to end up next. I work full-time, yet find myself in this situation of not being able to afford the overpriced lettings due to the housing shortage, and facing being homeless in a few months."
Sandra Phillips has been left perplexed by the whole situation, she added: "I have never applied for social housing before and knew nothing of the system and what to expect, I was given no information or guidance – like you have 3 bids a week and have to have a connection to an area to have a better chance of a place, but you can still bid on – it's just a wasted bid.
"I was told there is a huge demand for social housing so I needed to look at private landlords and renting. Rentals went crazy when Stroud was voted the best place to live in the country."
Stroud Times contacted Polly Neate, chief executive of Shelter, the UK housing and homeless charity, she said: "Across the country, the housing emergency is ruining lives. People are being pushed out of their local areas by extortionate private rents, and with house prices continuing to soar, most renters can't scrape together a sky-high deposit to buy. Access to decent homes that people can actually afford to live in has become a rare luxury, as successive governments have failed to invest in social housing that local communities so obviously need. The answer is clear – the government cannot build back better without building good-quality social homes."
A Stroud District Council spokesperson said: "We are aware that the changing regulations during the COVID pandemic, whilst brought in with the best intentions to help manage the situation, have been confusing for both landlords and tenants. Currently, landlords seeking possession through the Section 21 route are required to provide tenants with 4 months' Notice in the appropriate format. If a tenant receiving a valid and correctly served s21 Notice to Quit does not vacate the property by the end of the Notice period the landlord must then apply to courts for possession.
"The 4 month notice period was introduced as part of the Coronavirus regulations, and SDC is concerned that the number of s21 Notices to Quit served will increase significantly once s21 notice lengths revert back to the pre-pandemic two month period, which will likely occur from the 1st October 2021, causing difficulties and distress for tenants who may find it difficult to arrange alternative accommodation.
"There is information on our website to help support both landlords and tenants at www.stroud.gov.uk/housing/private-sector-housing .
"On a broader level, in the new draft Council Plan for the next three years, we are committed to building affordable, energy-efficient homes and delivering high-quality services for all tenants by investing in the renovation of existing council homes, and we will meet a range of housing needs for those who experience disadvantage.
"A total of 239 homes were built by Stroud District Council for its own stock between 2014 and 2019 and we have an action plan to build 111 more by 2022/23.
"We continue to support local initiatives in building homes for rent, we can help landlords bring empty homes on to the rental market, and the council is working to meet a Government-set target of 13,000 new homes overall in the Stroud district by 2040."